The COVID-19 pandemic has changed the way people work. Maybe forever!
Companies are encouraging or even requiring people to work from home for an uncertain amount of time.
Whether voluntary or involuntary, working from home is an experience, one that is not easy to take on by yourself. We have gathered our experiences as a team to share our best practices and perks of working from home and the challenges we encountered.
At Kentivo, we already had the possibility to work remotely and even have permanent remote team members for years. So even though we were not new to the work-from-home lifestyle, working remotely during the pandemic came with unique challenges you will not find in a traditional office.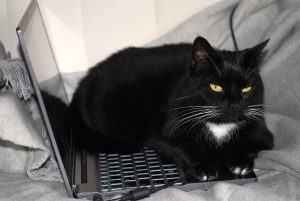 First of all, the working space is not as well set up as in the office. Especially when you have kids, pets or a partner who also works from home, it is a challenge to find peace and place to work. I think we all know at least one occasion where you had to drop off a meeting because your kids demanded attention, your cat wanted to be in the meeting as well or your partner was talking loudly to a customer. 
Secondly the social contact. Speaking to colleagues 100% online is just not the same. It is hard to share online a joke or something about your personal life. We tried to overcome this by having a Google Meet Channel open all day. It worked well for the first 2-3 weeks. Everyone left the channel open; we were all in there and people even had smoke breaks together. After a few weeks, the enthusiasm for this joint place just died off.
However, working remotely has a lot of personal benefits such as saving a lot of time without having to commute. No more stressing in the morning to catch the train or metro, able to sleep a little bit longer or going to bed later. Saving money on lunch, eating healthier at home or have lunchbreak with your partner. You are also able to work more efficiently and focused without getting distracted from the noise from colleagues.
Working remotely requires some adjustments at first, but we found that the key to success for working from home is 2 things: discipline and communication.
Discipline
Starting the day with a call with the team to discuss the things that are important and setting goals for that day. It gives you the structure to start the day at a certain time and to see all colleagues. It also helps you to focus on the work that needs to be done.
What works for us is to have a daily routine of when to work and when to rest. We start at the same time as we would also before the pandemic. As we are missing the routine of traveling to work, we force ourselves to go outside once in a while to take a walk. And we never skip lunch!
But the most important thing is to separate work from personal life. If possible, have a place for yourself, where you can work and not be distracted continuously. It doesn't have to be a separate room; it can be a desk or a place at the kitchen table. Just think of it as an office and once you get away from it, you are not at work anymore.
Communication
Working remotely requires some adjustments at first, you start missing your co-workers and the workflow is different at home. However, the second key to success for working from home is finding a good way to stay in touch with the team on a daily base.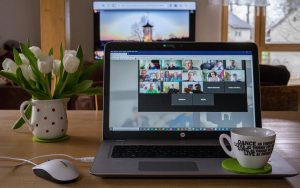 Use the collaboration tools that are available in the market! We use Slack / Meet / Teams / Github / Dropbox and sometimes Miro. It makes your remote working life so much easier!
We have virtual meetings to share screens and discuss questions or updates on projects. When we are stuck on something, we use Slack to ask colleagues for help. One time we were discussing something in a virtual meeting room when two other colleagues joined who had nothing to do with the topic. They were also looking for a place to discuss things, so they shared another link and dropped off. It really felt like being in a meeting room with somebody entering the room to see if it is available.
Communication is the key to not feeling isolated and staying involved with what is happening.