How to find the essential information to score a deal, know a threat or stay in front of your competition? Finding the essence and relevance in data is often a time-consuming process.
As Forbes states it "the digital space is overwhelmingly noisy".
What if you can reduce that noise and get the information you need, when you need it? We can tune our AI algorithms to do that for you, as we call it: Create your own little digital brain.
Bring your company intelligence to the next level
Let's give some examples of questions our clients ask, and the digital brain can be tuned to answer:
How do I find the right candidate to invest in?

Which legal changes affect my company and my clients?

What are my competitors doing?

How can I unveil fake news?

Where can I target my acquisition efforts best on?
 Receiving answers to those questions sound like a perfect glass ball, magic! But it isn't. It is putting machine learning into practice.
How can this be done with Machine Learning?
Well, it started with Mandy, the personalized news site. This AI driven news engine that we are running for almost 2 years provides basis to set-up a customizable engine.
With the right sources and the proper tweaking and training it is possible to find you the best candidates to invest in. With a scoring algorithm in place, we can show you the best candidate, the competitive landscape and related 'must knows' from the news or social media. By monitoring companies and related sources, you know where your acquisitions efforts are best spent.
How do you create your own specific digital brain?
Let's explain following these three steps.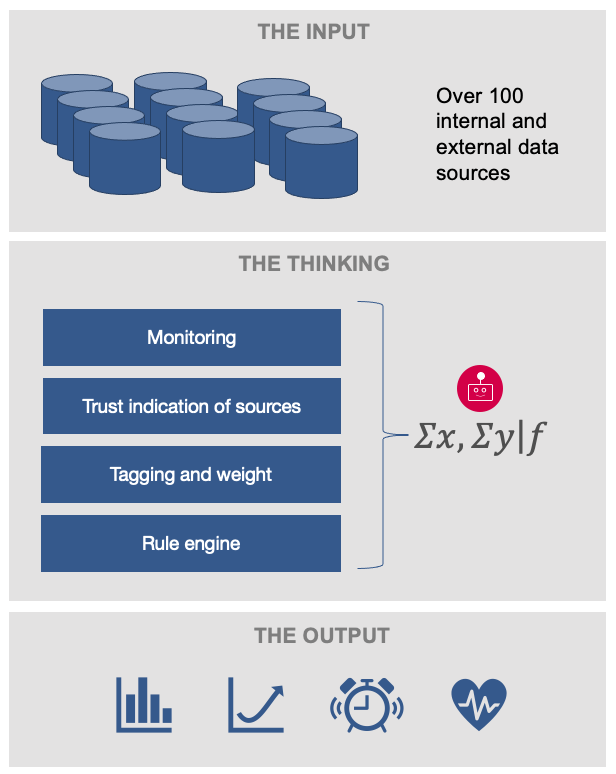 1. The input
In Mandy there is already a big history of business news article over the past 15 years. This is a good source to work with for predictions. By adding specific sources, like legal information source, social media sources or data from CRM systems, the input is set-up to be able to answer your specific question.
2. The thinking
Once the sources have been ingested and are monitored, the 'thinking' can start. With the fine-tuning of algorithms, a personal brain is created that helps your companies answer the questions. With a training and tweaking page, the algorithms can be adjusted in such a way that they are perfectly suited to give precisely that insight that your company needs.
3. The output
 Via a dashboard, and if required personalized notifications, the gathered insight is easily accessible. Also, this dashboard is customized to your companies need.
Together we set-up your specific digital brain based on your needs and questions. We will finetune the sources and find where the gaps are.
Next step is to make the right algorithms work the way they should. A training period can make the algorithms work even better. We use our SaaS license-based Machine Learning platform Genie to build the digital brains, ensuring stability, continuity and security.
Don't wait, jump on board and bring your company intelligence to the next level.