Genie has been released out of her lamp!
Everyone knows the story of Aladdin and the magic lamp. Aladdin got inside a weird cave where he found an intriguing magic lamp. When he rubbed the lamp, out came a genie! Master, I shall grant you three wishes,the Genie said.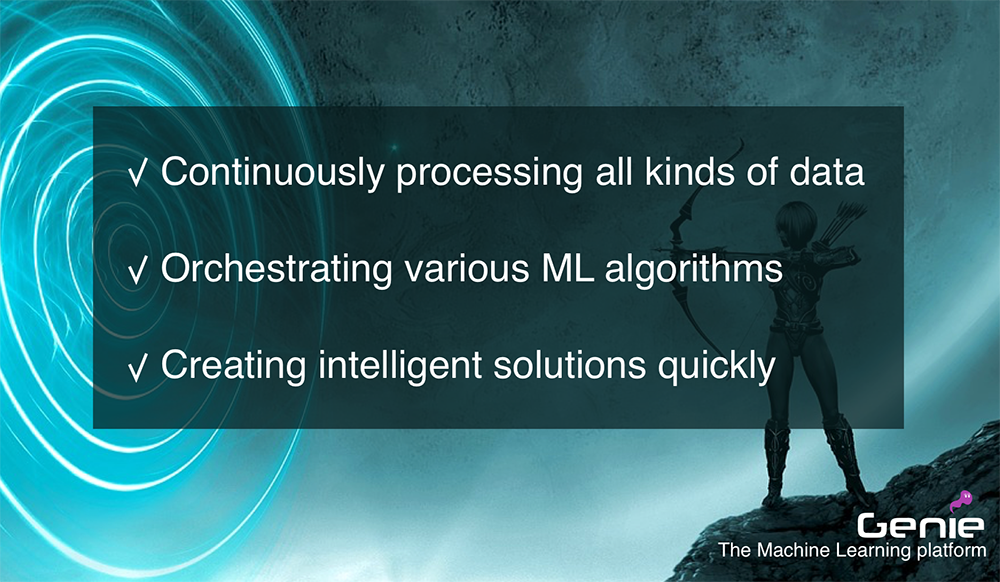 We are thrilled to officially announce our new developed Machine Learning platform called . With this platform, we can grant our clients wishes in regard to intelligent solutions. Genie enables us to develop Machine Learning solutions for our clients much faster with a high-quality level. With the use of the platform, we can take and store any type of data from any source and perform different kinds of Machine Learning analysis: It's like magic!
"Releasing Genie has big advantages:It can handle all kinds of data, public and personal dataIt can combine different Machine Learning models"
It can interact with machines or humans depending on the client's need.
It can be offered as a service – SAAS.
It is easy to upscale and expand.
It has a large focus on security
Yes, and all this results in that we can build: the unique intelligent solution that fulfills your business need. How does the magic work? The platform basically exists out of three layers (where the three wishes come true).
Data Compositions – The first layer is the data and information layer. Here we ensure that the data points correct and relations are standardized.
Brain – In the second layer all kinds of Machine Learning models are in place, like document text and structure analytics, network analytics, process flow analytics and more.
Orchestration – The third layer is the orchestration layer enabling us to combine different algorithms and to orchestrate the interaction to humans and/or machines.
What more can Genie do in the future?
With our Genie, we have opened the door to develop the most interesting, new timesaving Machine Learning solutions for YOU. And we will continuously develop the platform; add new kinds of algorithms, develop new kinds of solutions and more data sources. So this is not the last time you hear of our Genie!